Here's The New Video From Nicki Minaj!

We are all waiting for the new Super Bass Video To Be Released Today By Nicki Minaj on 106 and Park !!!!
Nicki Minaj also said on twitter
"boom baboom boom boom baboom boom boom…he got dat super bass… boom baboom boom boom baboom boom boom…. yea dats dat super bass ;)"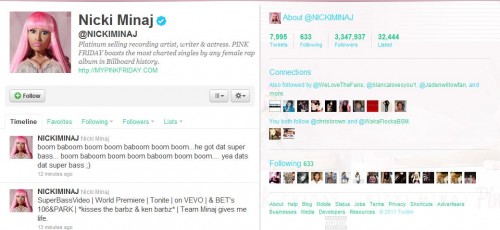 Want to discuss it with our community?
Twitter.com/globalgoodtv
Facebook.com/GlobalGoodGroup
Twitter.com/hotglobaltrends
Twitter.com/globalgoodgroup
Twitter.com/globalgoodtv
Twitter.com/globalgoodmedia
Twitter.com/globalgoodworld
Twitter.com/c4yourselfent
Follow us to get free exclusive content and updates from our global good network!
Important Updates? Send them to our editor on twitter: @joshbois
This was a funny Interview Though


See Our Other Photos on TwitVid
———————————————————————————-
Posted By: Rick Jeffries ( @RickJeffriesC4C) FOLLOW ME!
———————————————————————————-
Content Distribution by:

Expanding Your Technologies
Visit: globalgoodmedia.com