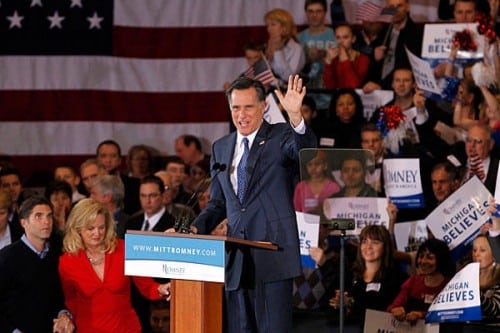 Going into the Michigan Primary yesterday, many people though Romney might actually lose the state. That would have been a big blow to the Romney campaign because Mitt actually grew up in the state, and his father was the Governor there at one point. But now that all the polls are closed and the votes have been counted, Romney is the winner in the state of Michigan and Arizona.
He narrowly defeated Rick Santorum in Michigan, but had a commanding lead in the great state of Arizona. A defeat in Michigan would have showed more chinks in Romney's armor, but for now he is the victor in both states. Romney picked up 30 delegates in Michigan and 29 in Arizona. Check out the results below:
Michigan primary results
Mitt Romney 409,138 (41.1%)
Rick Santorum 377,119 (37.9%)
Ron Paul 115,531 (11.6%)
Newt Gingrich 64,955 (6.5%)
Arizona primary results
Mitt Romney 215,119 (47.3%)
Rick Santorum 120,678 (26.6%)
Newt Gingrich 73,478 (16.2%)
Ron Paul 38,453 (8.4%)
What People Are Saying On Facebook...
comments