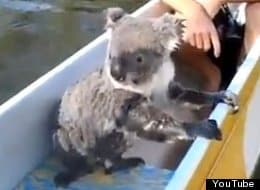 Cute Koala swims aboard to hang out with some people
Okay Global Gooders there is not much more entertaining than a Koala that swims aboard to hang out. I personally love this animal and even this on in particular. People and the media talk about and portray Koala's so many times in cartoons and as logos and such but rarely do you really see what they look like. They actually do have very sharp looking claws and can not only climb but they can swim as well.
Most people, including I, have never heard of Koala's swimming but hey there is a first for everyone. At one point they are directly touching the Koala and it is so cute. It hops up on the stool and looks over the board of the canoe figuring out what it wants to do. When it is looking at the people it is all wet and so precious.
Read more about this Koala directly on the Huffington Post: http://www.huffingtonpost.com/2012/08/28/koala-swims-to-canoe-video_n_1837860.html?utm_hp_ref=good-news&ir=Good%20News
View the video below or directly on Youtube: http://www.youtube.com/watch?feature=player_embedded&v=ojYGjAbaHRE