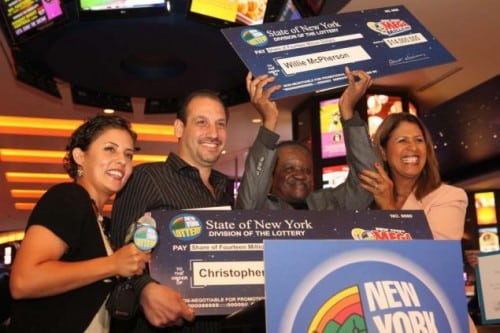 Who says the lottery is just a tax on the poor. After 25 years of time, effort  and money, two old friends in New York finally hit the mega millions jackpot they've been chasing for so many years.
Willie McPherson, 74, and Christopher Manzi, 44, won a $14 million jackpot last month playing the Mega Millions lottery, according to the New York Post. The two men had been buying lottery tickets together for 25 after striking up a friendship while working at Manzi's print shop in Manhattan.
Even though they both spent a small fortune over the years on lottery tickets, neither McPherson nor Manzi paid a dime for the winning ticket. As part of a lottery promotion, they received two Quick Picks for free.
"We won $14 million on a free play ticket," McPherson told to the New York Daily News. "[It feels] beautiful."
The pair opted to take the prize in one lump sum, which, after taxes, comes out to about $3.5 million each. Media accounts indicated the two may celebrate in Miami.
Kyu's Coffee Shop, which gave McPherson the winning ticket, received $10,000 for giving out the free ticket.
Signed, Isidori Mtabo