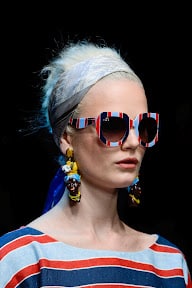 Dolce & Gabbana have had some recent criticism over there "slave" earrings seen walking down the runway during Paris Fashion Week. People are claiming that they are promoting racist imagery in their Spring 2013 collection. However in refute of those claims D&G  have explained the meaning behind those controversial "fruit lady" earrings.  The story behind those earrings have a historical reference.
The images reference Sicily's Moorish-inspired art. The heads are based on ceramics that appear in Sicilian homes inspired by the Moorish people, who conquered Sicily for 75 years. Dolce & Gabbana's SWIDE blog says stated that it is a legend behind the particular planter images they used.
"Behind the Moor's head vases there is a legend that is as interesting as its real history: they say that around 1100 AD, when Sicily was ruled by the Moors, a beautiful girl was living in seclusion and spent her days cultivating flowers on her balcony. One day a young Moor passing by saw her, decided he had to have her and entered the house so to declare his love. The young girl, surprised by such a gesture, reciprocated him, but just when she got to know him he had to return to where he came from, to his wife and children, she waited for the night to come and as he fell asleep she cut off his head and used it as a vase for her flowers and put it on her balcony displaying it to everyone. This way his love was forever hers. Since then, flowers grew lush in the vase and the neighbors, envious, built vases shaped like a Moor's head." -(Vogue UK, SWIDE)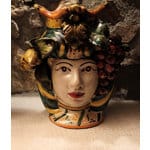 Do you think is justifies the making of the earrings? Personally, I would like to read more about the historical reference regarding the invasion of the Moors to Italy, Sicily, and the island of Malta as I am intrigued by the cultural diaspora of that region. Who knew there were Black Italians and Sicilians?