ARE U WASTING TIME? Youth Empowerment launches the BET Comic / HBO Def Jam Poet College Tour & Red Carpet at Fayetteville State University in North Carolina. The highly anticipated event is put on by ARE U WASTING TIME? and is sponsored in part by cricKet, GlobalGoodGroup.com, Bronco-i-Radio and more.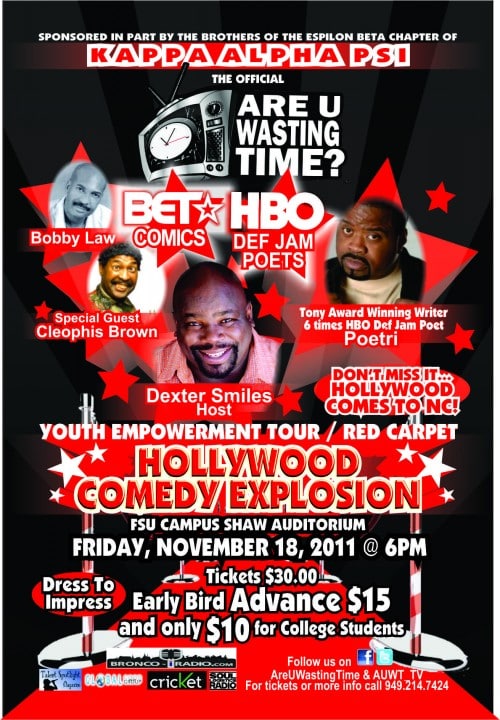 Event Details
Info: 
BET Comic / HBO Def Jam Poet College Tour & Red Carpet will be hosted by Dexter Smiles with 6-time HBO Def Jam Poet and Tony Award winning writer  'Poetri' and Bobby Law.  Cleophus Brown will also be attending the event as a Special Guest.

The event is sure to be filled with great performances and great red carpet appearances.  Grab some friends, save the date and make your way to FSU this Friday for a night to be remembered.
Date: Friday (11/18/11)
Location: (The Amazing) Shaw Auditorium @ FSU (Fayetteville State University)
Address: 1200 Murchison Rd , Fayetteville, NC
Doors Open: 6 P.M.
Dress Code: Dress To Impress
Be sure to check out the official ARE U WASTING TIME? Website as well for more information:
Make sure you are dressed to impress and at the Shaw Auditorium at FSU by 6 P.M. this Friday November 18th,2011.
Check Out The Official ARE U WASTING TIME Youth Empowerment BET Comic / HBO Def Poet College Tour Commerical below:

Here are some words and images to remember as you go on with the rest of your day…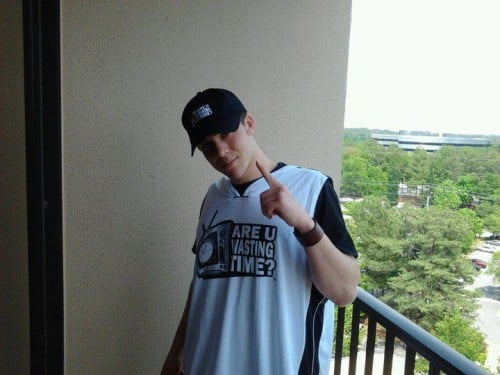 "I'm really excited to see how many lives have been affected in a positive and #globalgood way by ARE U WASTING TIME? reaching and extending itself into the communities to really make a difference.  What we do here at GlobalGoodGroup.com is promote causes and mission-minded individuals that are focused on achieving GlobalGood.  ARE U WASTING TIME? fully encompasses that meaning to its very core, and I am honored to work hand-in-hand with such a great organization that takes the good into the neighborhood directly".
-Rick Jeffries, Founder of GlobalGoodGroup.com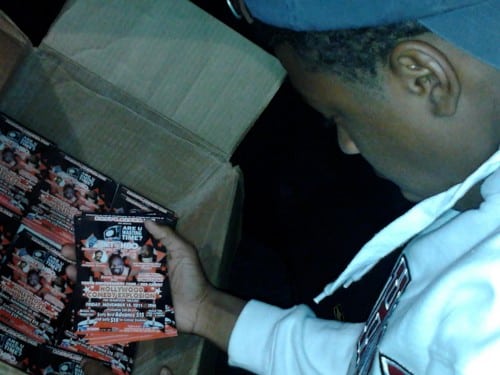 "Do More Good Today, Than You Did Yesterday" 
-Asim Ali, Founder of ARE U WASTING TIME? Youth Empowerment
Ask Yourself: ARE U WASTING TIME?