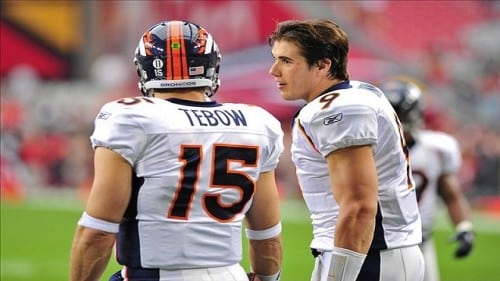 Well this is embarrassing. In a recent GQ story, Brady Quinn threw his starting quarterback way under the bus, attributing the team's recent success to great team play and not solely the work of Tebow. As expected, the media ripped him apart for his comments and now Quinn is back-tracking from the things he said. In a series of Tweets, Brady said "The comments attributed to me in a recent magazine article are in NO WAY reflective of my opinion of Tim and the Broncos. Tim deserves a lot of credit for our success and I'm happy for him and what he accomplished. Most importantly, he is a great teammate."
Quinn didn't stop there, adding "That interview was conducted three months ago, and the resulting story was a completely inaccurate portrayal of my comments. I have addressed my disappointment with the writer and have reached out to Tim to clear this up. I apologize to anyone who feels I was trying to take anything away from our Team's or Tim's success this season."
In the story, entitled "The Year of Magical Stinking: An Oral History of Tebow Time" and written by Yahoo's Mike Silver," Quinn said, "We've had a lot of, I guess, luck, to put it simply" and attributed much of Tebow's success to a fan campaign when the team was 1-4 with Orton as the starter.
"Early in the season, there was a game when Kyle [Orton] got hurt and the coaches were calling for me to go in, but Kyle got up and finished the game out," Quinn said in the story. "So I was the second-string guy. Then, a few weeks later, they decided to put Tim in. I felt like the fans had a lot to do with that. Just 'cause they were chanting his name. There was a big calling for him. No, I didn't have any billboards.  That would have been nice."
Quinn, like Tebow, is religious, but questioned Tebow's public displays of faith on the field. "If you look at it as a whole, there's a lot of things that just don't seem very humble to me," Quinn said in the story. "When I get that opportunity, I'll continue to lead not necessarily by trying to get in front of the camera and praying but by praying with my teammates, you know?"
I think Quinn was simply being honest and I see no reason for him to apologize for that.