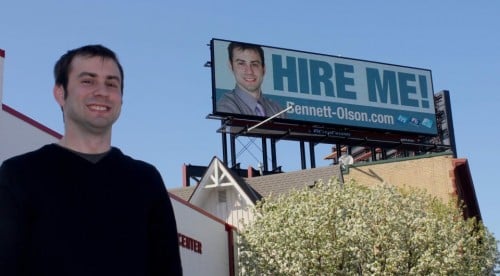 Landing a job in today's market is a hard thing to do, you often have to be very creative to find one. Bennett Olson did just that, thinking outside the box, and landing a very good job. The 22 year old Rosemount, Minn resident had the bright idea to put his face on an electronic billboard, which helped him get a job at  Laser Design & GKS Services, a 3D scanning company in Bloomington.
Olson wrote "After receiving quite a bit of attention, support and ultimately interviews I felt that Laser Design & GKS Services was the right fit because they are a young, yet established company which will provide me with the opportunity to learn and grow my career."  Olson paid $300 for an 8-second time slot on an electronic billboard near downtown Minneapolis. His ad was up for 24 hours, rotating with other ads on the billboard. The words "Hire Me!" appeared next tohis website addressand a picture of his face.
What People Are Saying On Facebook...
comments