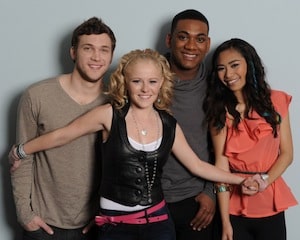 On American Idol last night, the judges were completely blown away by the amazing performances given by the four remaining contestants. Phillip Phillips sang "Volcano" and it was absolutely beautiful. Phillip really felt the song and gave a moving performance to America in his fight to be the next American Idol. Next, Hollie Cavanagh fought for her spot in the top two with "I Can't Make You Love Me" and did not do the song justice. Hollie tried her best to feel the song and put her emotion into it but just did not impress the judges with her performance. Joshua Ledet performed next with his rendition of "It's A Man's World" which completely blew everyone away and gained him a standing ovation. Right after Joshua's absolutely breathtaking performance, Jessica Sanchez took the stage with "And I Am Telling You." Jessica also amazed the judges and ended the show with a flawless performance.
Who would you crown winner after the show last night? I believe, based on vocal performance, that the competition is solely between Joshua and Jessica but if you look at popularity Phillip may pull ahead and make it to the top two. Tune into Fox tonight to see the results revealed!
Signed, Steph
What People Are Saying On Facebook...
comments