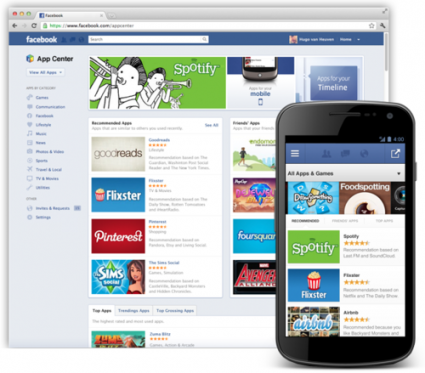 In the weeks that Facebook has gone public, we've witnessed a drop in stock like none other. While Mark Zuckerberg was on honeymoon with his new wife, the company lost billions and billions of dollars in value. As of close today, the stock trades at $27.10, almost $15 off where it opened several weeks ago.
In addition to going public, Facebook has also unveiled two features that I would like to discuss. The first is the app store, and the second is scheduled posting for Facebook Pages.
App Center is Facebook's foray into the app market, something that Google and Apple have been hanging out in for awhile now. The App center seeks to help the 900 million Facebook users discover apps that they would like to use and integrate with their Facebook experience, whether that be Spotify or sharing via Yahoo News. If you are a heavy user of Facebook, it's likely that you already know what apps you are using and are not using.
The second feature is scheduled posting for Facebook pages, which allows administrators to schedule content in advance. Such a feature already exists in tools such as Sprout Social, HootSuite, Tweetdeck, CoTweet, as well as in software such as BundlePost and Buffer.
In both cases, Facebook is late to the game. Apps have already been seared into the heads of people and is nothing new at all. Power users of Facebook are definitely going to be interested but why would a casual user get engaged? Scheduled posting has been around for years, so why would I leave HootSuite in order to use Facebook's tool, which, as one might imagine, has the potential of being a lot buggier than what legacy tools I already have in my social media toolkit?
Social media is not a toy, and Facebook needs to come up with something a lot more relevant than what already exists. Excite us again Facebook, like you used to. This has really become boring and justifies the attention-seeking.
Tweet at me @albertqian, or comment below. Albert writes for Albert Qian: The Social Media Dude.