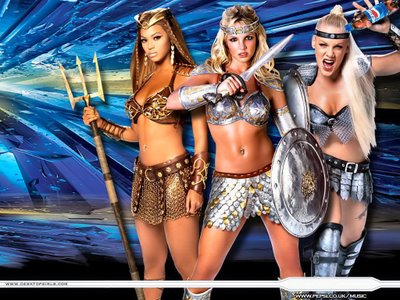 Producing mass marketable pop culture content is not easy, but Pepsi rocks at it
Pepsi, the brand best known for being the main competitor to Coke, is bold and still in the spotlight. We found an interested behind the scenes video for one of pepsi's new commercials called Crowd Surfing. It features Calvin Harris along with other notable individuals kicking soccer balls to each other on top of a crowd while trying to get to a Pepsi vending machine.
We also attached another video, which is where the image above comes from, it is a snapshot of the coliseum fight commercial where a Julius Ceaser looking character watches as super diva's battle it out and he drinks cold pepsi's. It is very hot in northern california right now in the Silicon Valley making this commercial make me think of a cold drink right now.
I really want a cold Pepsi right now, and that is a testament to how good there marketing is. Often times I will see a coke commercial and want a coke as well. This is not a sponsored advertisement for either brand, for it it was we would disclose it here or at the bottom.
Pepsi has a huge budget and spends millions of dollars to rope in celebs, but hey, there is ROI in that seeing as they sell Pepsi worldwide to tens of millions of people a day, if not hundreds of millions.
signed, Josh Bois
Behind The Scenes Of Pepsi's New 2012 Commercial — "Crowd Surfing"
Published on Mar 27, 2012 by Pepsi
Take a look behind the scenes of the new Pepsi Football commercial, starring Lionel Messi, Didier Drogba, Sergio Agüero, Jack Wilshere, Frank Lampard, Fernando Torres and superstar DJ and producer Calvin Harris.
To view the full ad, click here: http://www.youtube.com/watch?v=9TzgAmBhdt0
Pepsi Commercial HD – We Will Rock You (feat. Britney Spears,
The commercial is set in the Roman Coliseum. A gladiatorial combat between 3 lady gladiators is about to occur. They come out to chants from the crowd but refuse to fight. They drink Pepsi instead and sing We will rock you by Queen.
The challenge was to recreate the Coliseum and a crowd of 50,000 in the computer. The first 5 rows of the coliseum and associated people were shot for real and the rest is CG.
What made this slightly more difficult than the usual crowd replication scenario was the fact that we were going to be relatively close, at film resolution and with a panning camera creating a fair degree of parallax. We shot about 50 extras against a green screen and with some inhouse software scattered them around the auditorium randomly with random offsets and colour correction. The auditorium itself was built conventionally in the computer with textures from the set and other pictures shot on location in Rome. Final Gathering was used in the rendering of it.
Advertising Agency: BBDO Paris Production Co: Radical Media Director: Tarsem Compositor: Tom Sparks @ Play
Glassworks Team: 3D Lead: Alastair Hearsum 3D: Daniel Jahnel, James Mann, Mikko Martikkinen R&D: Robin Carlisle Producer: Jay Lichtman
Britney Spears Banned Pepsi Commercial with Bob Dole [High Quality]

Not sure if Brit actually banned this video or not as I remember seeing it, but anyways here is another great example of Pepsi. They even show Coca-Cola employees staring at Brit as she sings with the Pepsi in amazement.