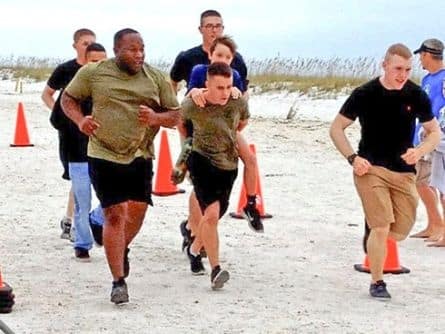 11 year old triathlete Ben Baltz wasn't thrilled about competing in yet another triathlon, his third one in the last couple of months. Ben Baltz had completed the 150-yard swim and three-mile bike ride in Sunday's Sea Turtle Tri on Pensacola Beach, but about a half-mile into the run, his prosthetic leg started wobbling and moments later the screws came loose.
The lower half of Ben's right leg was amputated when he was just 6 years old and diagnosed with bone cancer. After complaning about pain in the area after a ski trip doctors discovered Osteosarcoma in its early stages. Ben Baltz is now living cancer-free and he uses a mechanical knee and prosthetic leg that help him walk and run, switching between two types of legs for sports and everyday movement.
After the screws in his prosthetic leg came loose Ben sat there wondering whether he should crawl or hop the rest of the way there, and in the middle of doing so a marine by the name of Matthew Morgan who was volunteering at the youth event stepped in and asked young Ben Baltz if he needed some help. For the next half mile, Ben held onto Pfc. Morgan with one arm and his prosthetic leg with the other. Ben said he and Morgan didn't really speak after their first exchange, but more Marines gathered around and sang a cadence.
Ben Baltz was grateful to the marine for all his help, but he says he is a little frustrated and embarrassed that he couldn't complete the course on his own.
Signed, Isidori Mtabo