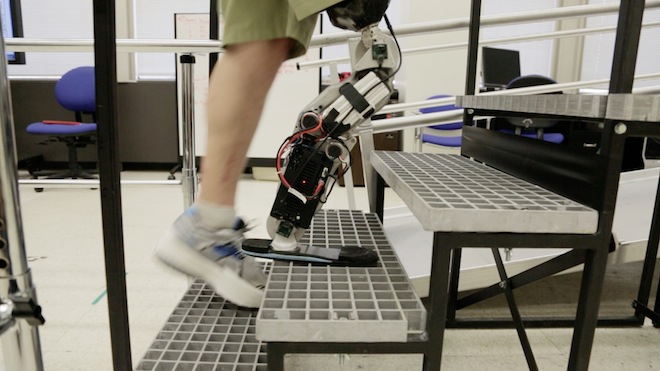 Future Tech: control of useful robots with your mind
As if computers and smartphones weren't already smart enough, now scientists have found a way to combine technology with your body where you can literally control bionic additions… with your brain. 
Yes it is true and more than just a cool little side story, this technology is really helping people that need it. Currently, the way that many of these man-made body parts work is that they are really just mounted on people in hopes that it isn't too much of an inconvenience and there is no express smart-like features or functionality. Now, however, the brain can send signals all the way down through its nerves and spine to the muscles related to the movement… in the case above, a leg.
This is a huge breakthrough for the world whether you are an individual or perhaps a veteran who could utilize one of these for your betterment. We think it is absolutely the coolest thing ever and hope that this begins to get into the world's circulation. Clearly it is not something that is readily available for all and likely there are some cost-prohibitive factors and availability problems for mass usage currently, but it is something we can strive for.
It may remind you of something you would see in a movie, but this is real news folks.
Check out the featured video we have for you hosted on Youtube below:
ARTICLE BY: Josh Bois, Co-Founder Global Good Networks