This post brought to you by Fellowes, Inc. . All opinions are 100% mine.
In a day and age where security is becoming more difficult to manage, it is critical that you use the latest technology to maximize your physical security while staying efficient in the workplace. New technology like the Fellowes AutoMax can keep you secure by enabling your shared office space to have a secure shredder that locks, and that also can securely shred hundreds of pages at a time. Perhaps the best thing about this shredder is that you can just put documents in it and go off to handle business and it will shred them while you are not there! With all of the identity theft these days it is importat to shred your documents and keep all of your information safe!

Watch the video below to see this in action to get an idea of how cool this technology can be and how simple it is to literally put some documents in it and walk away!
Fellowes AutoMax is one of those high-end technologies that has so many features we don't know which one is our favorite. It could be that it is energy efficient, but I think mine is that it is quiet. So many shredders add so much noise to offices! I have used a shredder before quite a bit at my office and it always makes everybody turn there head because it is so loud. Even though it is necessary and requested, it disrupts almost everything! So other than the awesome fact that you don't have to drip feed the papers slowly into the shredder which takes forever, the fact that you can ACTUALLY have one of these in an office and keep it in the office is great!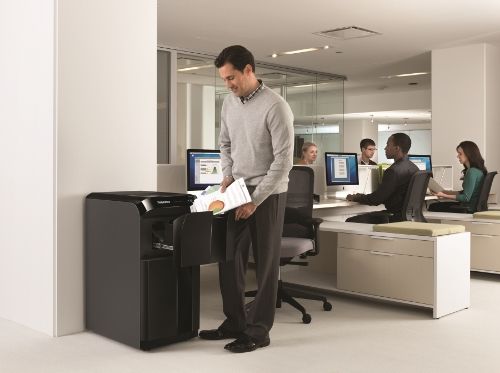 What else makes this shredder stand out? Well you need to dive deeper into the actual technology to see the difference. There are actually paddles within this machine that help to keep the paper flowing evenly throughout the shredding process so that you don't have to feed it yourself or stop back routinely to check on the process. We love the Smart Lock system as well which can keep this machine locked so that nobody can look inside at your shredded documents, they are safe until you are ready to dispose of them somewhere… so pick your disposal location safely! Depending on which system you get, you can have it process up to 500 pages in a single sitting. If you multiple 500 by how many visits your team needs to make throughout the day that can add up to tens of thousands of documents getting shredded, surely that is more than enough, even in a legal office setting!
Let us know your thoughts in the comments below!