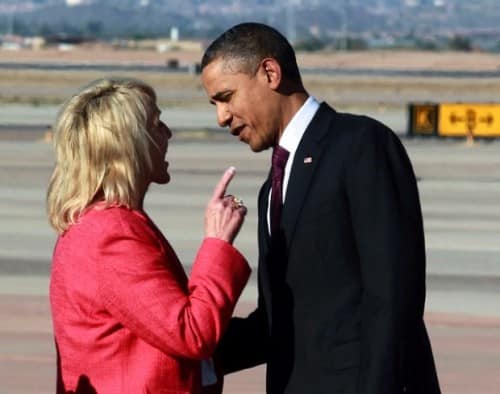 During his arrival at at Phoenix-Mesa Gateway Airport, Barack Obama was greeted by Arizona Governor Jan Brewer. The exchange was supposed to be a quick meet and greet, but soon turned into something else. According to Matthew Benson, Brewer's spokesman, Obama and the Governor got into it because the president did not like, nor agree with the way he was portrayed in her book Scorpions for Breakfast.
In "Scorpions for Breakfast," Jan Brewer discusses her handling of SB 1070 and its fallout, accuses Obama of mischaracterizing the immigration law's provisions and describes a sharp exchange during a meeting with Obama in the Oval Office. The two leaders spoke at great length on the tarmac and at one point Brewer pointed her finger at the president. At that point Obama chose to simply walk away, while Brewer was still talking.
Brewer went on to tell reporters that she had "all the respect in the world for the office of the president. I thought we probably would've talked about the things that were important to him and important to me, helping one another. Our country is upside down. Arizona was upside down. But we have turned it around," Brewer said. "I know again that he loves this country and I love this country."
What People Are Saying On Facebook...
comments