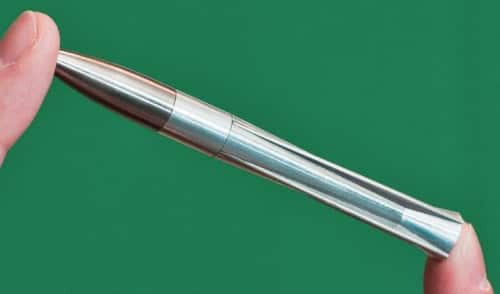 The battlefield just got a little more dangerous.  Sandia National Laboratories has built a new bullet that sounds like something straight out of a movie. Two researchers at Sandia have created a self guided bullet that's able to hit targets more than a mile away. The self guided 4-inch bullet prototype has been successfully tested in both computer simulations and field testing, where bullet speeds have reached 2,400 feet per second.
The bullet first needs to have a target lased, then from there the user is able to duck back into cover and fire his gun. The bullet has a built in optical sensor, allowing it to guide itself straight to it's target. The bullet is still a prototype, but if it passes further testing conducted by a private firm, the bullet will be accessible to recreational shooters, law enforcement and the military. Sandia researcher Red Jones said in a statement "While engineering issues remain, we're confident in our science base and we're confident the engineering-technology base is there to solve the problems."
What People Are Saying On Facebook...
comments