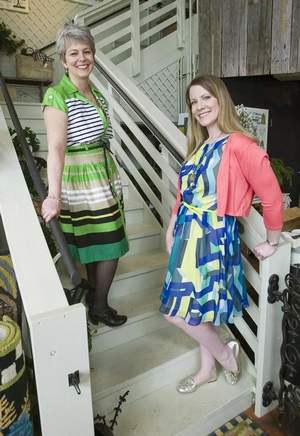 The latest trends will be on display this weekend in Kohler at the Spring Jewelry and Fashion Show, hosted by The American Club.
The event, which runs from 9 a.m. to 5 p.m. Saturday and from 9 a.m. to 3 p.m. Sunday, will be held in the Grand Hall of the Great Lakes, lower level of The American Club, 419 Highland Drive. Admission is $5 per person for the weekend (free for hotel guests).
The show features about 35 vendors offering unique accessories including handbags, scarves, pins and jewelry that are designed for women. Prices vary from $5 to $150.
"It's a great way to get people out for the weekend. People can get out and about as the weather turns warmer," said Tricia Rathermel, special events manager for Hospitality and Real Estate Group at The American Club. "It's a nice way for women, in general, to spend time at The American Club."
Sheboygan's Lyn Chevrier, owner/designer of Indulgences Wearable Art, said she was pleased with the results of last year's show and enjoyed meeting people who stopped by.
"I meet many wonderful people through my art shows…Last year a woman who was blind bought one of my crochet wire necklaces, that was quite emotional," said Chevrier, who has been creating jewelry for eight years. All of the pieces are her original designs and creations.
"I create unique, one-of-a-kind pieces, necklaces, bracelets and earrings. My favorite is creating new and different pieces," she said.
Chevrier uses a variety of items, including pearls and semi-precious stones. She then works to bring color to the forefront and adds texture for additional appeal and class.
"I crochet with wire, bead-weaving techniques and free-form wire wrap. I have new designs this year to add that are very fashion-forward and current," she said.
Food will be available for purchase, including chicken salad croissants, cob salad, homemade cookies from the pastry kitchen, gourmet chips and pretzels and a cash bar. The newly renovated Horse & Plow also will be serving lunch.
A highlight of the event will be the fashion show at 1 p.m. both days.
Models from Lakeshore Technical College's hospitality program will be wearing the latest clothing and accessories. The attire will reflect trends for spring and summer 2013.
The show is expected to last 30 to 40 minutes. Seating will be limited.
Rathermel said the fashion show can help demonstrate how to pair jewelry and accessories with fashion.
"You are going to find jewelry and accessories that you wouldn't find in a department store," she said. "It's all been handmade or artfully crafted."