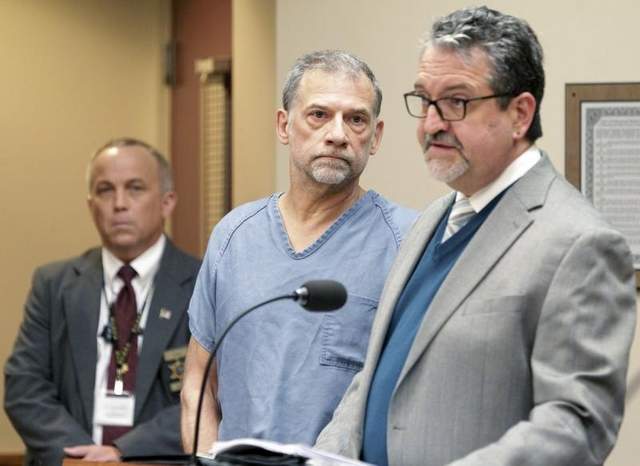 A witness told police that a Lutheran bishop accused of driving drunk when he struck and killed a runner in Sun Prairie on Sundaynever braked after the crash and appeared to be trying to flee the scene, according to a criminal complaint filed Wednesday.
Bishop Bruce Burnside, 59, was formally charged with three felonies: homicide by intoxicated use of a vehicle, hit and run resulting in death and homicide by negligent operation of a vehicle. Burnside also was charged with misdemeanor hit and run after police say he also hit a vehicle.
Burnside stood mute at his first court appearance Wednesday, and the judge entered a not guilty plea on his behalf to any misdemeanor counts, according to online court records.
According to the complaint, Burnside had a preliminary breath test reading of 0.128 percent blood-alcohol content, the Wisconsin State Journal reported. Wisconsin's legal limit for driving is 0.08 percent.
Burnside was arrested after he allegedly struck and killed Maureen Mengelt, 52, a married mother of three and an avid runner. Mengelt was a former teacher and Madison police officer who became a full-time mother after the birth of a daughter almost 20 years ago.
Mengelt was running along a blacktop path where it crosses the bottom of a Highway 151 off-ramp when she was struck.
After allegedly hitting Mengelt, Burnside drove to a nearby convenience store, where police had first contact with him in his vehicle. Burnside initially denied to police he'd been drinking, the complaint said. He told the first officer on the scene he was running late for a church ceremony.
"I was looking at my radio and adjusting," Burnside told police. "I just want to know if the woman is OK."
A witness told police Burnside's sport utility vehicle jumped a median and hit a lamp post before striking Mengelt. Burnside's SUV had "heavy front-end damage," its back window was smashed and its roof was partially collapsed, the complaint said.
Bail was set at $150,000 cash if Burnside wanted to leave jail Wednesday, and he remained in custody. On Thursday, it reverts to a signature bond with no cash down so Burnside can comply with a condition of his bail, which is to enter an in-patient alcohol treatment facility.
Burnside is bishop of the South-Central Synod of Wisconsin of the Evangelical Lutheran Church in America. He oversees 145 congregations in a 13-county area.
A spokesman for the synod said Wednesday that it had no comment and would issue a statement Thursday. A phone message left for Burnside's defense attorney was not immediately returned Wednesday.
Church officials have said Burnside was on his way to an afternoon ceremony at Our Savior's Lutheran Church in Sun Prairie when the crash happened.