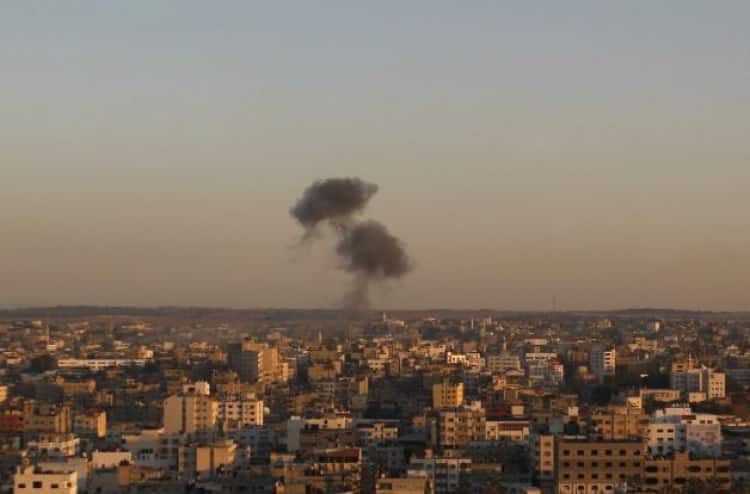 The Gaza crisis has continued to grow worse as the Israeli military and militants trade fire. Following the killing of Hamas's military chief, there seems to be no sign of stopping in the near future.
Israel hit 200 sites overnight, including the Prime Minister Ismail Haniya's office. Gaza combated by firing dozens of rockets into Israel, including one at the city of Tel Aviv, which was intercepted. Hamas leader Khaled Meshaal plans to hold talks with leaders of Egypt, Qatar, and Turkey on Sunday in efforts to stop the battles. The talks will take place in Cairo, which is also hosting an emergency meeting of the Arab League.
Since Israel killed the Hamas military chief Ahmed Jabari on Wednesay, at least 40 Palenstanians and three Israelis have died. Troops have been gathered near the borders to prepare for invasion if the Israeli government should give command told an Israeli military spokeswoman to BBC. She stated that it did not see any distinction between the miltary and political wings of Hamas and that anything connected with the militant group was considered a legitimate target.
An Israel air force spokesman stated that it had destroyed at least 90% of long-ranged rockets in Gaza. Medium and short ranged rockets recieved a severe amount of damage along with infranstructures. However, hundreds of short-range missiles still remain, said the spokesman. Although there has been much damage, some 60 rockets were reported to have been fired into Israel on Saturday. Some building were damaged in the attack, and four soldiers suffering minor injuries. One rocket also hit an apartment building in the Israeli port city of Ashdod where several were wounded.
Israeli has put 75,000 reservist on stand by, along with the 16,000 called up recently. There has been no decision on sending troops but are in considerations if the rocket fires do not stop. The Israeli Defense Forces released figures on Sunday stating that 492 rockets have been fired over the past three days. And another 245 had been intercepted by Iron Dome.
Explosions have been set to aim fro the Hamas's cabinet building and the house of the Hamas leader in Jabaliya, north of Gaza city. Israeli military spokeswoman Avital Leibovich said 200 targets had been hit overnight. Hamas has confirmed that Mr. Meshall will meet the Emir of Qatar, Egypt's President Mohammed Mursi and Turkey's Presidetn recep TAyyip Erdogan in Cairo on Saturday night to discuss how a ceasefire can be achieved.
Shanika Simmons