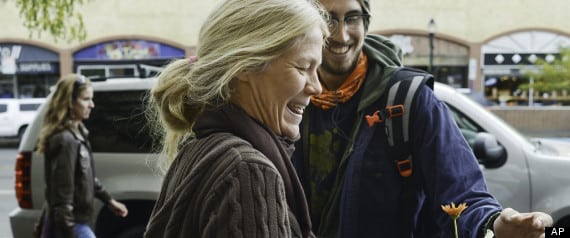 23-year-old Montana State University student, Nathan Ira, isn't your typical college student. Nathan recently started a "You Deserve A Flower" campaign where he walks around downtown Bozeman, Montana and hands out one flower to someone who looks like they are having a bad day. Each flower that he gives has a note that reads, "For whatever you are dealing with, you deserve this."
On Ira's blog, he gives us some insight into why he chooses to do this campaign saying "This is an attempt to positively impact people's lives. I am giving people flowers with a note saying "For whatever you are dealing with, you deserve this." I'm making this moment fairly personal, I only have one flower in my hands at a time, so each person receives the flower that is meant for them. On the back of the card is my email address. This blog is a catalog of the responses. I highly encourage others to do this. it's not about me it's about you, and you deserve a flower."
Thank you very much for the pick me up today Nathan! I can't even remember the last time I received a flower. It's the simple things that remind us of the beauty in life. Thanks for sharing the love my friend. I hope you feel the love in return.

Dear Nathan,

      Thank you for sweet flower and note today! I was not having the best day and your adorable gesture put a smile on my face and made me feel special. This world needs more beautiful art and people like you! You are a wonderful person and you deserve a flower too! Thank you for making my day and reminding me to smile and smell the flowers.
Those are just two responses out of several that can be found on his blog. Head over to Ira's blog, 
youdeserveaflower.blogspot.com
, to read more responses from his wonderful act!
Signed, Isidori Mtabo