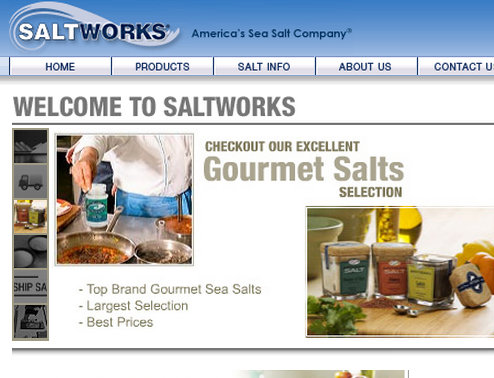 Whether you use kosher salt because you like to cook with it for its culinary value, or you use it because you choose to stay kosher, you may want to try SaltWorks' products.  The Washington state-based company offers an entire line of smoked kosher salts.
Kosher salts tend to taste better than traditional table salt since it's free of additives. While table salt has a slightly metallic taste thanks to the iodine that's added to it, kosher salts offer a cleaner taste.
In recipes that call for table salt, you'll want to double the amount of kosher salt. For example, one teaspoon of table salt would equal two teaspoons of kosher salt. If you're substituting table salt for kosher salt, you'd use half the amount of table salt.
Kosher salt can be used for all cooking. It dissolves quickly and many chefs recommend putting it on anything from popcorn to a good roast. Some experts say table salt is better for baking.
According to JewFAQ.org, there's a popular misconception that rabbis bless food to make it kosher, but that's not the case.
"There are blessings that observant Jews recite over food before eating it, but these blessings have nothing to do with making the food kosher," says the report. "Food can be kosher without a rabbi or priest ever becoming involved with it: the vegetables from your garden are undoubtedly kosher (as long as they don't have any bugs, which are not kosher!)."
Still, a rabbi will examine food and its processing to make sure that the food is kosher.
When salts receive kosher certification, it means that not only are those salts of the highest quality, but also that the food is fit for those who observe Jewish traditions. While many believe that kosher indicates food from the Jewish cookbook, that's not really the case. Any kind of cuisine can be kosher certified as long as it's prepared in accordance with Jewish kosher laws.
Gourmet Kosher Salts
SaltWorks, the largest gourmet salt company in the world, recently achieved kosher certification for its entire line of smoked salts, according to a recent press release.
"We are really excited and proud of our smoked salt Kosher certification," remarked Mark Zoske, CEO of SaltWorks. "This is a great development not only for our retail smoked salt products, but also for ingredients for the food industry. Our customers have been requesting Kosher certification for our smoked salt for years, and now we can deliver."