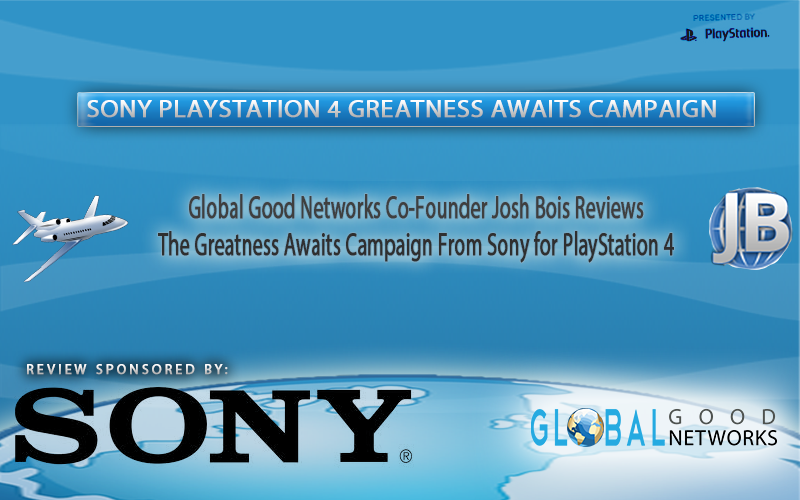 Sony's New PlayStation® 4 – Something To Get Excited About
Whether your an avid gamer or love to control your home media from a single system then the PlayStation® 4  (PS4™) is basically everything you could ever dream of. Recently Sony launched the Official PlayStation® Greatness Awaits campaign which celebrates the fun adventurous world that you can enter into on any PlayStation®. The trailer has been distributed all over the place and you are likely to see it somewhere while watching some TV or online. It starts off similar to the Mayhem campaign from our other GGN sponsor, Allstate, with a guy looking like he is causing some trouble… but quickly leads into an action-packed adventure world where there is fun around every bend and some sort of craziness to deal with. 
Sony wants the world to see that the gaming world should be celebrated and that it is a legitimate activity you can enjoy with a group or even by yourself. Whether for fun or as an escape, the immersive world that these games take you into is adrenaline filled and exciting. They are so realistic that you forget where you are and become a part of something bigger than just yourself. Even if you do not have the PS4 and are sticking with the current PlayStation® 3 (PS3™), or even an earlier model like the 2 or the original you can have a blast entering into the right game. With online game-play now, you are able to battle against your friends in groups or against random other players competitively from all over the world. We recommend stopping by your local entertainment store such as Best Buy or Game Stop to find a game that suits exactly what your looking for.
With tons of options for the PlayStation® these days there is almost something for everybody. Software and games like Active 2 from Electronic Arts ( AKA EA ), and EA Sports in particular, you can actually get a workout. There are sensors on the current system you can get which can tell when and where you are moving in relation to the system and the screen. This is so that you can monitor how well you are in sync with physical actions being shown on screen and adjust. Basically it is like having a personal trainer, except it is virtual and makes it a little bit more fun than doing it by yourself and it is a more cost-effective option then paying for weekly classes at the gym. Is it too hot or too cold outside? Fear not… your PlayStation® always has your back. Perhaps the true value add of these systems is that they also double as media centers where you can stream your music, video, and other entertainment such as Netflix through to your TV so that you do not need redundant equipment and remotes. 
Greatness is truly awaiting you on the PlayStation®, so what are you going to do?


Check out the official campaign here:
 us.playstation.com/greatnessawaits 
What Greatness Awaits You? Check out the official video trailer below. 
See some behind the scenes clips and some hot game screen samples to get an idea of what is coming up with the new PS4!

If you enjoy following some of the progress of the upcoming console then you will want to watch some of the shots from the Recent E3 2013 Sony Conference where they revealed the Sony PS4. Enjoy clips below from the IGN channel whose video about the PS4 has over 180,000 video views already even though it has only been out since June 10, 2013!

Disclosure: Compensation was provided by Sony via Glam Media. The
opinions expressed herein are those of the author and are not indicative of
the opinions or positions of Sony
ARTICLE BY: Josh Bois, Co-Founder Global Good Networks™