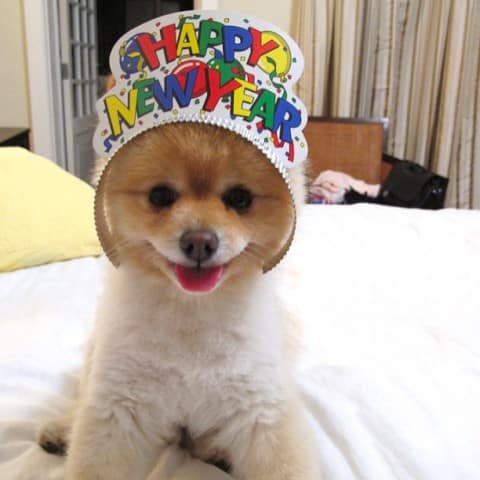 The cutest Dog in The World… YES I Said it!  This little adorable bundle of happiness wishes all of you a happy new year.  Make sure you do the same!
Read Sammy's Most Recent Post on His Website Too:  NEW YEARS EVE IN TIMES SQUARE
You can wish Sammy a Happy New Year at the following places:  Twitter, Facebook, and His Official Website!
Here are some more adorable pictures of Sammy!
Source: SammyAndTheCity.com
Everybody be safe and enjoy your new years activities!
Signed, Rick Jeffries
Here's a short bio on Sammy, who by the way loves the city life!!!
Meet "Sammy in the City." Sammy, a Pomeranian like no other, is a crowd pleaser, an entertainer, an adventurer… and, also, just a happy little dog with a fox trot and a smile (a smile so charming—you can't resist him)! Sammy, who lives on the Upper East Side of N.Y.C., is well-versed in treats, sweet tricks, making cute faces, delighting young and older alike… but also in Manhattan and its surroundings: He's very much "in the know"…. So, come join in on his adventures throughout "Gotham": its corners, famous landmarks and people, big events, and the hidden glorious gems of New York City. Live the life in a day through Sammy's eyes as he tours you around, showing you all the fun action that can only happen in the Big Apple. Who knows what can happen next?! Sammy loves to make new acquaintances, by the way, so feel free to tell all your friends, too: Sammy loves everyone he meets! Yes, they say "a dog is a man's best friend" but, once you get to know Sammy: you'll know you really have found a best friend forever…
What People Are Saying On Facebook...
comments