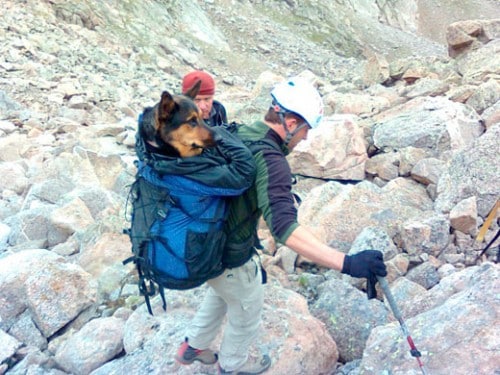 In what is sure to become one of the feel good stories of 2012, a small group of hikers, rallied together via an Internet forum, came together to rescue a wounded dog that was stuck along a dangerous rocky terrain between Mt. Bierstadt and Mt. Evans in Colorado. Scott Washburn and his wife Amanda stumbled upon the German Shepard mix when they got lost hiking and immediately started trying to help the animal. The Washburn couple gave Missy food and water, but were not able to bring her back down with them due to not having the proper equipment.
Once they got back to civilization, the couple started calling different organizations around the state and country, trying to find someone that would help bring the poor dog down from the cliff. No organization stepped forward to help because of the simple fact that no humans were in danger , thus no one wanted to take the chance on poor Missy. The couple decided to get creative and turned to a  climbing site called 14ers.com. The Washburns posted a picture of Missy, with a location. On Sunday night a search team tried and failed to find the dog. But on Monday, a second team of eight volunteers, including Washburn and veteran hiker Chris O'Riley, found her. Once they made it to the bottom of the mountain, the team rushed Missy to a hospital, where the vet proclaimed her a "miracle dog."
Signed, Isidori Mtabo
What People Are Saying On Facebook...
comments