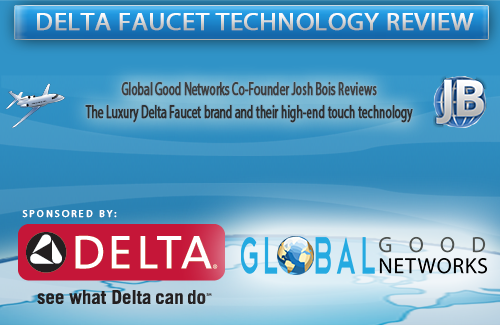 What's Your Dream Kitchen Faucet Like? Probably a Delta
Almost everyday you utilize your kitchen faucet and yet you may not be realizing all of the technology available out there to make your time easier! For us, we love our property to be high-end and luxurious and one of the most used areas is our kitchen. Delta faucets not only provide some gorgeous finish options such as Artic Stainless, Chrome, Champagne Bronze, Venetian Bronze, and Stainless along with their Brilliance Finish but some great technology too. 
With their Touch2O technology you can easily just tap on the faucet to have it turn on and off, something that provides priceless convenience as you cook and enjoy your household. No matter where you are in the world these Delta Faucets provide a great addition to your home and the decor that you choose to use. 



On their website you are able to use their shopping tools to find the perfect faucet after going through their questionnaire which will ask you various questions including whether the faucet is for your kitchen or bathroom, whether it is for a bar area or just kitchen, even if you want to utilize the DIAMOND seal technology which helps make the valves leak free. Factors such as the seal technology make this suitable for the most luxurious of mansions that are fit for a prince, celebrity, politician, or business executive of the highest stature. All too often low-end faucets can have leaks at their valves and spill out onto counters which degrades home value, creates a mess, and can have other consequences such as mold build up. This important faucet technology will keep your home safe, and the value high!
So next time you are in your kitchen, consider why you are not using a Delta faucet and then reconsider and go online! If you are already using a Delta faucet, you should still check them out online to see what some of your other options are for your other rooms including bathrooms and bar areas. Other considerations is if you want a pull-out or a pull-down model depending on the use case such as cleaning a lot of kitchen materials.



Personally here at GGN we are clean freaks and hate germs! The Touch20 technology is more sanitary as you do not have to spread germs while cleaning your hands or get the faucet dirty when you really need to wash your hands or whatever is on them. We support Delta all the way and are excited that Delta will be sending us out our own Faucet to test out because of this post.
Disclosure: Compensation was provided by Delta via Glam Media. The opinions expressed herein are those of the author and are not indicative of the opinions or positions of Delta.
Go directly to DeltaFaucet.com to check them out: http://www.deltafaucet.com/index.html