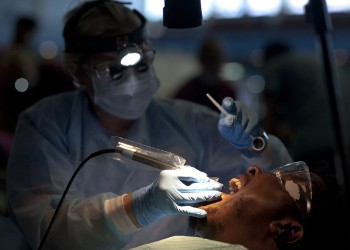 Amidst a tough recession, many families across the nation have been forced to cut down on routine dental checkups in order to save money.  The U.S. economy, which has nearly an 8 percent unemployment rate, is also having an effect on the financial health of dental practices.
There are 175,000 practicing dentists in the United States serving a population of more than 300 million, according to the American Dental Association.  Additionally, dental schools add more than 4,000 new colleagues to the profession each year.
Dental Financiers
Healthcare providers are increasingly offering flexible payment options for prospects and clients in order to generate business.  Clinics are no longer just composed of medical practitioners.  The industry is evolving in a financing business.
Here are some examples:
Some offices enable patients to apply for dental-theme credit cards, which is similar to interest-charging cards used by retailers.

Other dentists are offering dental financing, which adjusts rates based on a patient's credit rating.

Offices are changing how treatment is delivered in order to accommodate limited financial budgets.  Some are developing a multi-step treatment plan that meshes well with payment plans.

Due to the stiff competition, dentists are providing competitive rates for consumers that have access to pricing information on the Internet.

Early adopters are incorporating cutting-edge technology into their treatments, some of which focus on cost-effective prevention.
Competitive Marketplace
Haymore Endodontics, which is comprised of a team of dentists in Las Vegas, are incorporating more insurance providers in order to maximize its share of the local market.  A root canal can cost upwards of $1,000 to $2,000.  That's a hefty expense for families who have seen one or more breadwinners in their household lose a job.
Dr. Wyn Steckbauer, a dentist from Wisconsin, says that many people are avoiding dental care in this economy.  "Probably the number one reason is monetary, but from a lack of understanding that there are options available. More and more practices are making it easier to pay," Steckbauer explains.
Thus, Vegas-area practitioner will need to offer a price sheet that can't be out of line with other area practitioners.  Costs can vary at different offices due to differences in co-pays or deductibles.  The level of competition may advance medical innovation the next few years.  Technologies that can keep administrative and procedural costs could boost revenue for dentists looking to entice new patients with low prices.
Innovation
One recent innovation is the E4D Dentist System which enables same-day treatment for crowns.  The Cone Beam CT X-ray enables personnel to identify infections before a patient would be bothered by it.  Thus, it gives clients the option for cheaper prevention-based treatments before the fact.  Laser therapy can also remove damage from gum disease, which means patients may not have to undergo a painful extraction.
More efficient and effective treatments, along with new financing options, will likely continue to shape the industry.