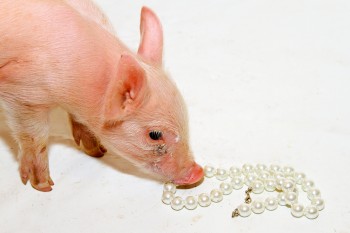 Pearls Before Swine is a weekly comic strip found in more than 600 newspapers nationwide, but until a luminary in the cartooning world paid a visit, too many were unfamiliar with this hilarious collection of cartoon misfits. Bill Watterson, creator of the missed and much beloved Calvin and Hobbes series, numbers himself among its fans and made one of his few returns to the public eye last week by contributing to three days of Pearls Before Swine panels. This secret collaboration — Watterson has remained reclusive for most of his career, with only one confirmed picture of him ever released — was only made public after the three comics were published (per Watterson's wishes).
Pearls Before Swine Sees a Ghost
Stephan Pastis, the creator of Pearls Before Swine, shared in his blog the wild journey that led from a nearly NSFW reference about one of his personal favorites to a fantasy come true. A mutual friend of Pastis and Watterson encouraged the Pearl's cartoonist to contact Calvin's creator, but it wasn't until Pastis incorporated Watterson into a recent strip, in a rather off-color way, that the two finally made contact with one another.
Watterson expressed his interest in ghostwriting a few days of Pearls Before Swine, but to do so in secret, Pastis introduced a new character — a second grader with a gift for art named "Libby" — a few days before Watterson re-emerged. After some technological tutoring on how comics are produced and submitted today, the result of the two cartoonist's genius can be found here (scroll by date from June 4 to June 6, with a bonus farewell to "Libby" on June 7). At least for a few days, newspapers and comics were cool again, and as the child of a father who worked in newspaper production and mailing, this was a welcome trip to the days of anticipating our daily newspaper's arrival.
Several years ago, while working an office job that was less than motivating, I became a big fan of gocomics.com and went there to pass the time. Pearls Before Swine was not available in my local newspaper, but it became my co-go-to comic (along with Get Fuzzy). My love for the "funny papers" was kindled by my father who loved Calvin and Hobbes and was heartbroken when it ended its run in the mid-1990s. For some of us, the comics are a remembrance of things passed, but more importantly, they provide a release from the news found in the rest of a newspaper (or e-readable version).
It's #good to take a break from the workaday life and find solace in a few panels of nonsense each morning. In that time we can see the humor in our world, hope for a brighter today and maybe be lucky enough to receive a visit from an old friend.