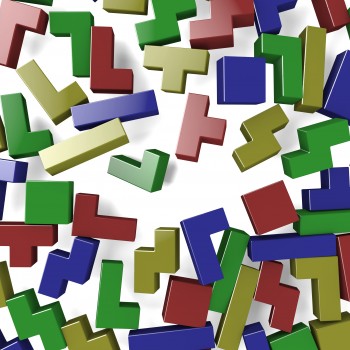 Oh how I despise you. Loathe you. Want to throw you out of a moving car so that I can turn around and run over you! But then again, we've spent so many hours together in your 30 years, and I am always up for the challenge — I'm sorry for what I said! Take me back, Tetris. I promise to play you even more. Millions of people around the world also find comfort and motivation in you as we join together to simply clear lines.
Tetris is celebrating its 30th and it has come a long way from its humble beginnings as the product of the Russian Elektronika 60 computer. It did not take long for the game to take off, and it was soon on multiple home computers, but its relationship with Nintendo was its biggest win. Though many were introduced to it through the Nintendo Entertainment System (NES; a.k.a. the company's wildly-successful home console), it was most widely played as a Nintendo GameBoy original — 35 million of the handheld devices flew off the shelves as a combo pack with Tetris.  The music was frantic, the pace was off kilter and the game play was strange enough that it drew millions of us into its world.
Tetris: 30 Years of Evil (or Great Game Play, Depending on Who You Ask)
You must remember: Tetris was hitting the U.S. computing and gaming world during the Cold War. This was a time when the rhetoric between America and Russia was quite spirited (sound familiar?).  Tetris's American audience was still receptive of the game even though it was unashamedly a product of the USSR (the Russian Federation's name at the time).
Remember a few years ago when France did not support the U.S. efforts in the Middle East, and some were willing to change the name "french fries" to  "freedom fires?" If this was the situation in the early 2000s, then how in the world did it work out for Tetris during the Cold War?
I know there are multiple back stories, as well as the fact that the Cold War was winding down, but I believe it stuck because it was so addictive, and that led to the formation of a community of gamers before that was really a thing. If Tetris was easy and not much to get excited about, it would have disappeared like so many other games. As someone who has spent hours playing it with very little success (at least until it joined the App Store — I' m a lot better at the iOS version), I know it can steal your time, joy and patience. One day, however, you got to that long-delayed level, and the frustration disappeared and all was good again.
So we celebrate you, Tetris! Congratulations on outlasting the competition (Dr. Mario is still waiting for his reintroduction to the world) and being a #Good game. Tetris will soon appear on the Xbox ONE and PlayStation 4, while the mobile versions of the game have been popular for years. And if that's not enough — PLAY RIGHT NOW at the official Tetris site. Here's to another 30 years — hopefully I'll figure you out by then, right? Maybe? Just don't be stingy on the light blue, long pieces!