Tuscany: Tapestry of Ancient Beauty and Historic Charm
Italy is gorgeous in and of itself, however, there exists a magical area within called, Tuscany.  Many cities exist here that are magnificent, however, only three are listed here that you absolutely do not want to miss! Apart from amazing weather, Tuscany is known for its rolling hills and the villages nestled within them, gorgeous castles and stone homes, renaissance-era art, and delicious, decadent wineries that you cannot find anywhere else on earth!  Thinking about planning a trip to Tuscany now?
Video Overview
All the best towns in Tuscany are only a short, delightful drive from one another, so it's easy to maneuver between them. In this post, we will discuss this intriguing place, and what makes the following cities shine above all others.
FLORENCE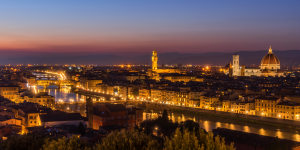 As well as being the capital of Italy, many famous 14th and 15th-century paintings make their home here, such as The Florentine Pieta by Michelangelo, The Annunciation by Fra Angelico, and the Gates of Paradise by Lorenzo Ghiberti just to name a few of the myriads to be found! After indulging your eyes on the vast array of artwork, you can visit the breath-taking Cathedral of Santa Maria del Fiore that was completed in 1434; it's not only suspensefully gothic in design, but it's the 4th largest church worldwide! As your day turns to evening, you can relax and stroll the cobblestone streets of the old town, and feel as though you've become woven into the fabrics of its very soul.
SIENA
The main village in Siena is considered the town square, and it has kept all its medieval allure of legends gone by. Many come here to relax, people-watch, and read while drinking a cappuccino or snacking on what some consider one of Italy's staple foods: gelato!! Can't beat it! Then, you can climb the Bell Tower of Torre del Mangia and see an awe-inspiring view high above the historical city. In addition, this village also hosts the Il Palio, the famous, world-renowned horse race beloved by many. An important note, however. You can only catch this famous attraction twice per year, on July 16 and August 2, so if this is of great interest to you, be sure to schedule your vacay during those dates! Next, try the Duomo di Siena Cathedral known for its unparalleled and detailed architecture. You're sure to stand in awe and feel tiny in its majestic midst!
LUCCA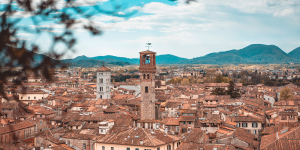 Lucca is somewhat outside of the "touristy" areas and has a naturally relaxed ambiance throughout. It's known as the City of 100 churches! A famous area to see here is the City Walls of Lucca, built in the 16th century, encircling the entire village. To add some extra fun here, rent a bike for little costs at several bike rentals nearby! Down a little way from here, is my favorite place, Amphitheatre Square! This ancient acoustic echo chamber was built by the Romans and no place else in the world has anything of this sort! Within its walls are many places to quench your thirst and feed your bellies at the several bistros with outdoor seating, shops to buy what you need, and concerts to enjoy throughout the year. Oh, and don't forget to check out the Delle Ore Tower, which is a clock tower from the medieval days! What is even cooler, is that they actually let you climb to the top which is so high, you can see for miles!
VAL d'ORCIA
If you'd like a quiet country setting where you can hear the slightest warm breeze wisp past your ears, try Val d'Orcia. This place is by far the most scenic landscape you've ever seen. Bring your cameras, because you're going to want to show everyone back home the breath-taking sights you were privileged to witness, such as the emerald green hills, multi-colored flowers, tall grass, and ancient Roman structures. One unique area within is still inhabited by monks to this day and called the Abbey of Sant'Antimo. It's a gorgeous castle built by strong Roman hands, beautiful in its simplicity and strength. It stands today, just as it was then, with little evidence of wear.
These are just a few of the must-sees of Tuscany. History palpably swirls around you, and you'll never be bored with its art, homes, bistros, galleries, churches, towers, walls, wineries, and of course, food! No need to mention the food at various places within Italy, because ALL the food country-wide is amazing, authentically Italian, and tantalizing to the tastebuds! Enjoy your stay, and be warned; Tuscany will call your heart back time and again, promise!
Instead of staying in a hotel, check out these Tuscan villa rentals here.
Come check out our page here.