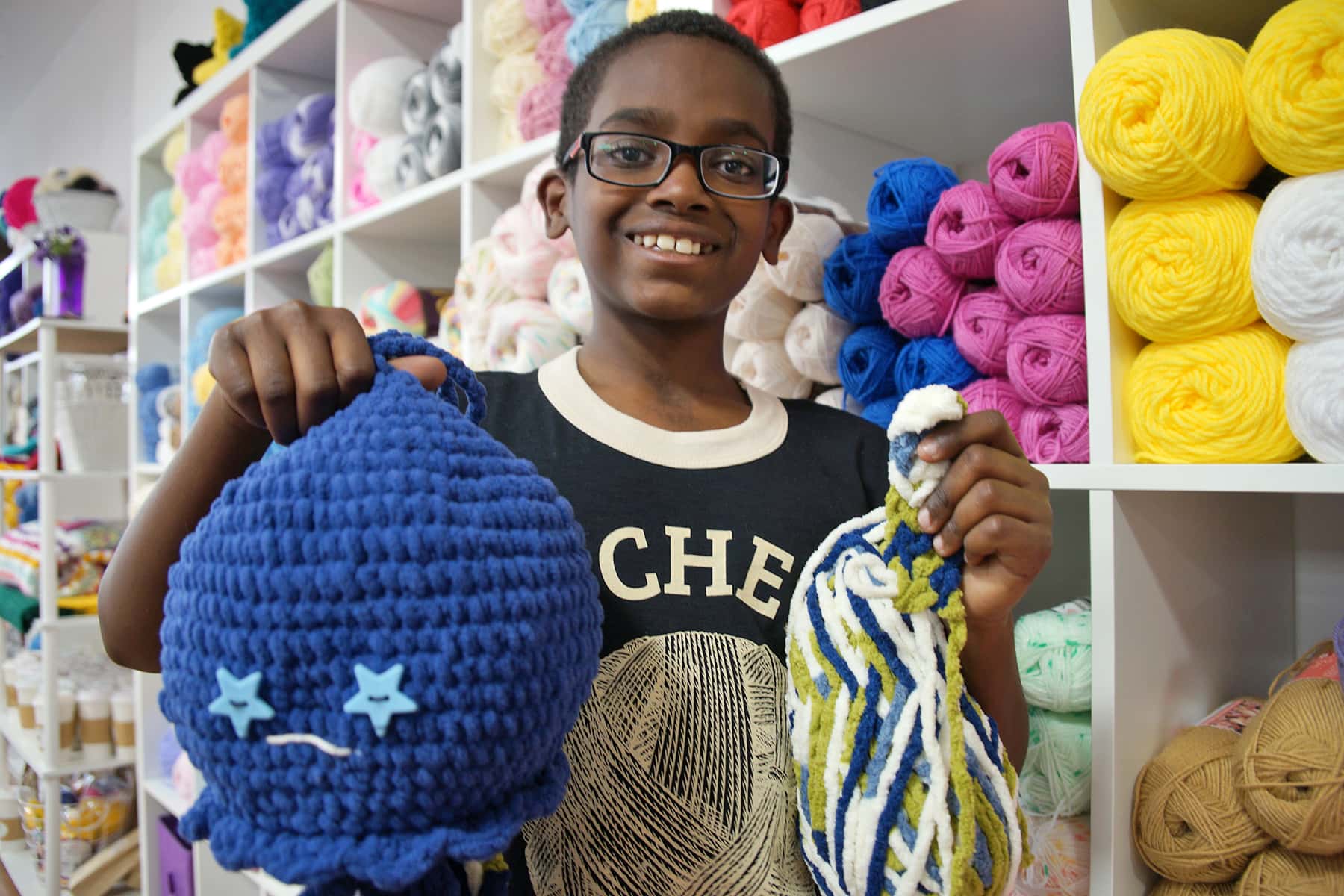 Inspiration comes in all shapes and sizes.  Jonah Larson, abandoned as a newborn outside the small African town of Durame, Ethiopia is changing the world. The, now the 11-year-old, crocheting prodigy has built an empire using only his two hands and huge heart.
When he was just 5 months old, he was adopted by Jennifer and Christopher Larson, residents of La Crosse, Wisconsin. From a young age, doctors suspected developmental disabilities and believed it would lead to a struggle with learning as a child.
While he did struggle in school at an early age, it was not due to his developmental capabilities.  Instead, Jonah  was acting out and distracting others, his energy was off the charts. At age 5, a hook left in a craft basket helped him develop a hobby that has come to consume and completely change his life. Crocheting.
From Crocheting Hobby to Hero
Teachers, frustrated by his behavior problems, suggested he bring his new hobby to school.  The behavioral problems ceased. His hands were occupied.
After only a few years, Jonah is crocheting at breakneck speeds and has mastered the craft with the help of YouTube videos. Check out his extraordinarily speedy hands captured in this video.
Jonah's hobby has since become a business venture known as Jonah's Hands, LLC.  Jonah crochets hundreds of custom pieces and proceeds go towards his mission to create a better world through love and kindness – starting with Ethiopia.  Jonah, an avid reader himself, didn't want any child to grow up without books.  His efforts are making it so that they no longer have to.
Jonah's Helping Hands
Jonah's Hands has raised enough money to create an entire library for Ethiopian schoolchildren; additionally, celebrities are seeing the good Jonah is doing and jumping in to assist. In fact, additional donations have helped build a reading room. Funds have also been used to purchased supplies and furniture for at least one school serving nearly 1,000 students.  Jonah, however, is far from done.  His efforts help support Roots Ethiopia, a non-profit organization dedicated to education and lasting change.
Because his two hands can only do so much, there are thousands of back-orders and a go-fund-me page is now open to better serve his dream.  The go-fund-me page is at nearly $25,000 and many of those donations go straight back to Roots Ethiopia.  The remainder is being saved up for his personal dream to  visit the country, become a surgeon, and offer free services to his country of origin.
To donate to Jonah's mission visit his website Jonah's Hands.com or stop by his GoFundMe page.
Thanks to Jonah and his family's support; schools and educational programs in Ethiopia are getting a boost and Jonah is fulfilling his dream of making a difference to people around the globe.