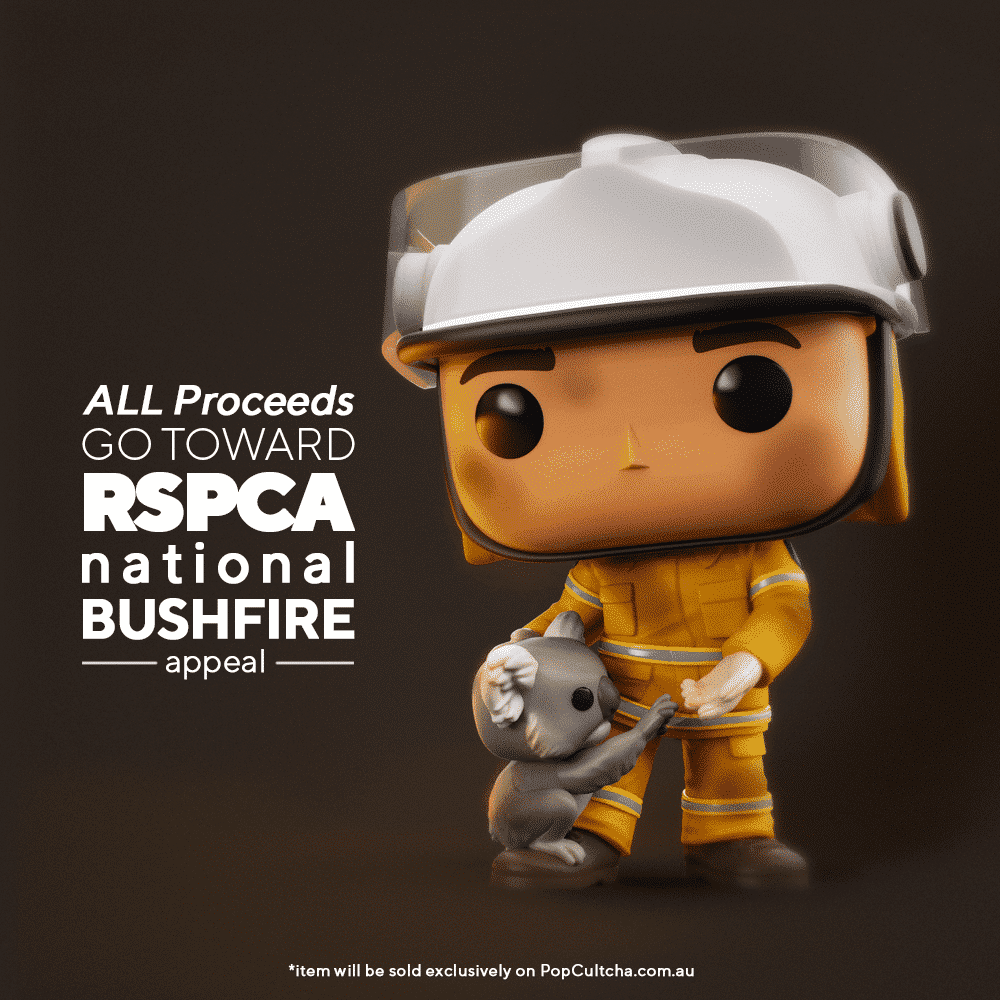 Since September 2019, heavy bush fires have consumed much of the Australian landscape. The fires, now mostly contained, thanks to heavy rains across the country, have destroyed upwards of 10,000,000 acres.  Additionally, more than 1 billion of the region's wildlife population have perished due to these fires. 33 human lives have also been lost.
American toy maker Funko, seeing the dire situation, came forward in support of the country and it's cleanup efforts. Funko is releasing a limited-edition Funko pop figurine for Australian firefighters.
The toy, named, Bush Fire Heroes features the Koala, whose habitat has been nearly completely destroyed. The brand, Funko is joining forces with a series of animal protection organizations.  A portion of each figurine's proceeds of $19.99  will be donated to the Royal Society for the Prevention of Cruelty to Animals(RSPCA).
This figurine is currently available for pre-order through the popcultcha website and is releasing in June 2020.
RSPCA is working alongside government and emergency service agencies, veterinarians to provide donations of equipment and supplies. The goal is to ensure that rescue associations can assist animals in need, as well as assess and identify injured animals that require immediate assistance.
Purchasing one of these figurines contributes to the needs of firefighters in Australia, and ensures they have access to supplies that are required for saving animals most at risk.
A Country In Need: Australian Bush Fire Donations
Coordination between various branches of government and emergency services is expediting cleanup. They are also working to spare the lives of many sick and injured animals that affected by the fires. However, donations are still necessary to continue delivering a consistent stream of new equipment, supplies and emergency care. Donations are also a necessity in assessing the needs of injured animals.
Injured and displaced animals that still need additional monetary support. If you love Funko Pop, buying one of these unique figurines is an excellent way to support the efforts of firefighters across Australia.
While the Australian bush fires have finally stopped raging, the massive reach of the fire damage has left much of the countryside decimated.  Australia still needs emergency services for the animals. With your donations and purchases, it is possible to help these animals in need.
Other outlets are also creating ways to support Australian wildlife. The CC beanie provides a cute option for those that aren't looking for a figurine, or you can donate to the Salvation Army to provide relief to families in need.
To see our other published content about Australia, visit this link.