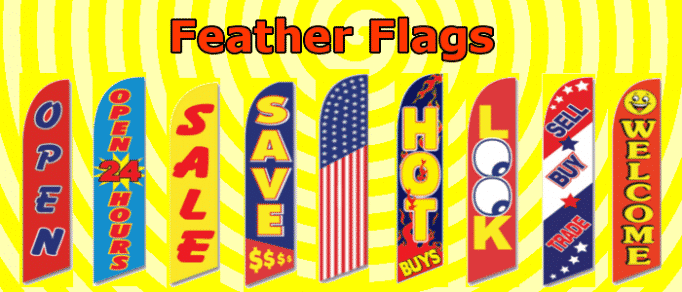 Competition in business is fierce these days, and the marketing approach needs to be just as aggressive to keep up. It's a struggle grabbing the attention of the passerby, and those companies who aren't using their outdoors for extra advertising are missing a huge opportunity here. There are several different ways to stand out from the pack, and some will grab a little more attention than others. Here's a brief list of outdoor marketing ideas to get the cash registers ringing again.
Fly Guys
Fly Guys also known as Air Dancers or wacky waving tube men have been around for a while, and for good reason. It's almost like they demand attention of those potential customers driving or walking by. The air dancers are just like they sound, an apparatus that is filled with air and dances about from a fan attachment that pushes wind into it. Most Fly Guys are made to resemble a wild looking figurine with crazy hair and arms flailing all around. They have loud colors, and can get pretty tall depending on the design. They can even have a message or logo put on the front of them for better brand name
recognition. One thing is for sure, they will certainly grab the attention of anyone in the vicinity.
Feather Flag Banners
Feather Flag Banners are another form of outdoor advertising that is perfect for all types of retail businesses. They stand 15' tall and 2.5' wide and are very flashy and hard to miss. They can be used one at a time or if you want maximum impact, you may want to line the front of your business with them. There is a variety of different stands and holders available for them, and they do not require electricity. That means you can use them just about anywhere a parking lot, grassy area or even your rooftop. They are the perfect way for auto dealers to bring attention to their big sales events. Feather Flags could also be used to direct traffic on the lot instead of being the focal point, it's a classy touch.
Gorilla Robot Signs
Finally, for those really aggressive marketers out there that want to fill their store immediately, they might use a bold approach like Gorilla Robot signs. These advertising signs are a mechanical gorilla that holds a sign and animates human movements to inspire people to look at it. They move from side to side and wave at the people as the pass by. They are perfect to put out at the edge of the parking lot, waving the passing traffic into the business. It's like having an extra employee all suited up but doesn't require any breaks.
This one is surely an attention grabber, and well worth the extra money spent on it. It also has the benefit of brand name marketing that can be incorporated on to the sign it's holding.  In the end, businesses need to be bold. Customers are at a premium these days, and the one who puts in the extra creative touch on their marketing campaign will likely be the beneficiary of new clients to boast of. For more information about outdoor advertising products like Fly Guys, Feather Flags or Gorilla Robots Visit Super Sign Factory.