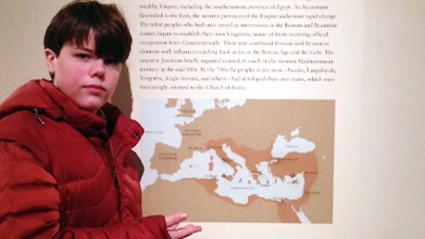 About 5 months ago, a 13-year old boy named Benjamin Coady discovered a mistake on a map that he was looking at while visiting the Metropolitan Museum of Art. When he confronted his tour guide about the mistake, he said that they were very rude to him and did not really listen. He was directed to the front desk and told to fill out a complaint card there. After doing this, him and his mother went about their business and did not really bother with it again. His discovery was that the southern part of Spain and the tip of North Africa were missing on the Byzantine map.
Recently, Benjamin's mother receieved an email from the Metropolitan Museum of Art claiming that her son was correct in his discovery and that the museum was very thankful to have him fill out that complaint card. They were more than willing to fix this mistake and were very grateful that he helped them discover it. Benjamin was very excited about his discovery and now all of the kids in his class want to study with him!
Signed, Steph
What People Are Saying On Facebook...
comments