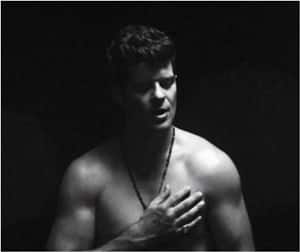 In case you have been missing Robin Thicke here is a lil snapshot of his past. You may remember the song he did with Lil Wayne a while back and if not we wanted to bring it back to center stage. Enjoy this tune, it is slow but perfect for those cool down moments in life!
Tie My Hands – Lil Wayne ft. Robin Thicke
http://www.youtube.com/watch?v=LwaCAyn1F3s

More from Google:
Robin Thicke
Robin Charles Thicke is an American R&B singer-songwriter, musician, composer, and actor. Thicke is a dual citizen, also holding Canadian citizenship through his father. 
Wikipedia
RELATED GOOGLE SEARCHES:
Searches related to robin thicke