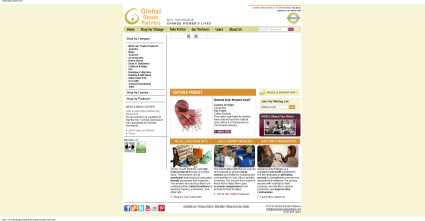 Global Goods Partners helps the world by selling sustainable and eco-friendly products
This firm, Global Goods Partners, is a great place to go online to help change the world and help yourself at the same time. Whether you are shopping for yourself or a loved one, including your cute pets, there are great items here. During the branding of Global Good Networks, we were searching for all of the ways we were being found and obviously the keyword Global Good is a huge one. Global Goods Partners came up.
We wrote about them sometime ago and you can read about Global Goods Partners here: http://globalgoodgroup.com/blog/2011/06/05/globalgoodspartners-org-handmade-gifts-that-support-women-another-global-good-resource/ and also here: http://globalgoodgroup.com/blog/2011/10/20/global-good-fair-trade-and-eco-friendly-products-by-globalgoodspartners-org/
Today we just wanted to show them some love again because we support their mission, vision, and what they are trying to do. In fact because they are another firm who focuses on the greater good of the world we hope that you buy something today!
On their website they have it publicly displayed that they are:
Some of that main categories that you can shop are:
Check out the website directly: http://www.globalgoodspartners.org
Other Articles we have written about great online causes and websites:
http://globalgoodgroup.com/blog/2012/08/22/good-360-goods-for-the-greater-good/ - Good 360 is similar and is branded as a marketplace for changing the world!
Want some more Global Good? Subscribe to our newsletter for more daily Global Good right from Global Good Group!