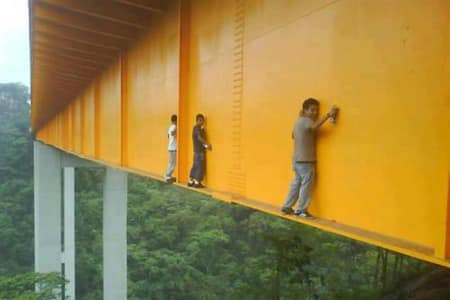 Being a street artist is an occupation that comes with a few risks. Cops are always after you, and rival artists have no problem painting over your latest masterpiece. But for one graffiti crew in Mexico, that's the least of their concerns. This unnamed crew of street artists released a video of themselves walking the ledge of the 430 foot hit Metlac Bridge in Mexico.
The video shows one of the artists calmly stepping onto the ledge where it meets land and walking to the center of the bridge, taking time to wave and smile at the camera. These guys obviously don't fear death. Check out this crazy video and let us know what you think.
WATCH:
Risky Business: Metlac Bridge
by graffarkk
What People Are Saying On Facebook...
comments