This week, MRI Performance and Prolab are celebrating National Women's Health Week, which runs from May 12 – 18.  The U.S. Department of Health and Human Services is conducting a weeklong observance to promote women's health.
Women around the country are being encouraged to:
Receive regular checkups and preventive screenings

Get active

Eat healthy

Get enough sleep and manage stress

Avoid unhealthy behaviors
On May 10, the White House issued a proclamation to celebrate National Women's Health Week:  "Since our Nation's founding, women have given their all to expanding opportunity for their families and for future generations. Decade after decade, that fierce dedication has been rewarded with remarkable progress in nearly every part of society . . . . This week, as we reflect on how far we have come in the fight to provide Americans with the care they deserve, let us renew our commitment to empowering all women with the chance to live strong, healthy lives."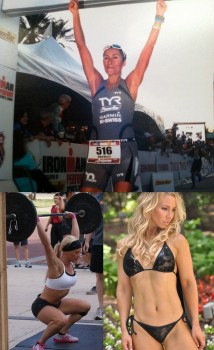 Credit: MRI / Prolab women athletes Rachelle Jorgensen (top), Jessica Clay (left), Emily Nicholson (right)
Prolab provides sports nutrition products to professional bodybuilders, athletes and fitness enthusiasts.  One of the company's sponsored athletes is crossfit competitor Jessica Clay of Ohio, who has been a bodybuilder for the past 12 years.
"Last year I decided to devote my attention to crossfit rather than trying to do pro bikini at the same time," said Clay, who runs a marketing agency when she's not at the gym.  This week, Clay is competing to qualify for the 2013 CrossFit Games in California later this year.
To help prepare for the regional competition, she favors a combination of Prolab's Cuts II Gold, Pure Whey Protein, Beta Alanine, and Quick Fire.
Asked what keeps her motivated, Clay says "I know no other way . . . motivation I suppose just comes natural."  Many women, including working professionals, struggle to find the time to remain active and improve their fitness.  Clay provides an inspiring quote from basketball legend Michael Jordan:  "Obstacles don't have to stop you. If you run into a wall, don't turn around and give up. Figure out how to climb it, go through it, or work around it."
MRI's Emily Nicholson is another sponsored athlete who has competed in the figure and fitness scene since 2005.  The Chicago native turned IFBB pro in 2009 and is pursuing her goal of making it to the Olympia stage.
The 38-year-old isn't your typical bodybuilder.  In addition to being a certified personal trainer and sports nutritionist, Nicholson has both a law and master's degree in taxation.
Rachelle Jorgensen exemplifies a woman's potential to juggle work responsibilities with health and fitness.  The 41-year-old is a wife, mother of three kids, and a grandmother of one.  On top of that Jorgensen owns an interior design company.
In 2009, Jorgensen competed in her first Ironman competition and won.  What keeps her going despite all her responsibilities?  Jorgensen prefers Prolab's Whey Isolate to push her through lengthy and difficult workouts.
The supplement is designed to be an "ultra pure, rapidly absorbed premium grade protein to support lean muscle growth and help improve recovery time from intense training".  As communities across the country celebrate Women's Health Week, inspiring athletes remind the rest of us that a fitness lifestyle helps us to be physically active, eat healthy, manage stress, and avoid unhealthy behaviors.
MRI and Prolab are part of the Natrol family of brands, providing nutrition and supplement products for women of all shapes, sizes, lifestyles and ages.  Some of the company's products include B-12, Melatonin, 5-HTP, Biotin, Carb Intercept Phase 2, Laci Le Beau Super Dieter's Tea, and NuHair FOAM.