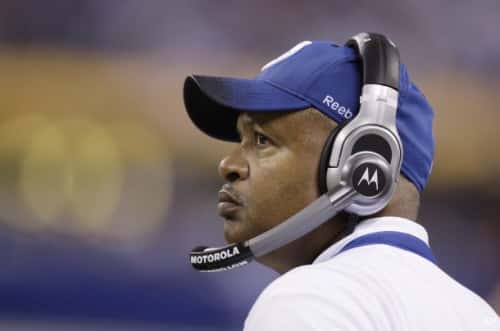 In a move that everyone could see coming, the Indianapolis Colts have fired their head coach Jim Caldwell after a disappointing 2-14 season. Although the Colts needed to let the coach go in order to start fresh, it's the way they fired him that's ruffling a few feathers. Starting on the Monday following an embarrassing loss to the 19-13 loss to the Jaguars, Caldwell held his weekly 12:45 presser where he kept his poker face on and gave reporters very vague answers about the future off the organization. Two hours later an announcement came down stating Vice Chairman Bill Polian, and General Manager Chris Polian have both been fired from their positions.
It is entirely possible that Caldwell knew about the firings, but decided to soldier on and hold the press conference anyway. This painted him as the "Yes" man everyone thought he was. The Colts also announced that they would allow Caldwell to keep his job, and even included him in the interview process for former Rams Head Coach Steve Spagnuolo for the vacant Defensive Coordinator job. But by Tuesday the front office was singing a different tune, and decided to let Caldwell go. Although no one disagrees that Caldwell deserved to be let go, it's the way they did it that has many people look at the Colts front office as the source of all the problems.
What People Are Saying On Facebook...
comments